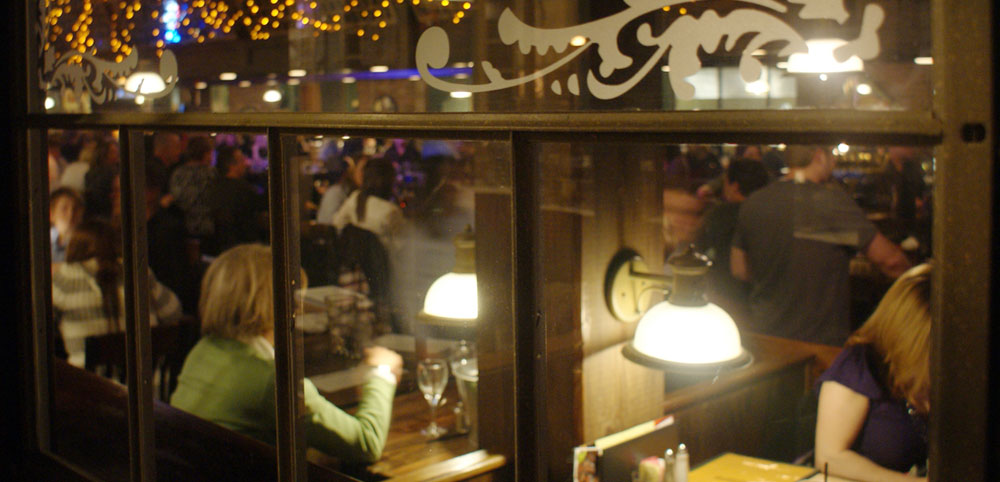 About Us:

June 9th, 2002. That is the day Westwood Restaurant and Pub opened our doors. Our goal then, as it is now, was to provide good food, good times and good friends in a warm, friendly atmosphere. We are your friendly neighborhood restaurant and pub, a place to share and celebrate with family and friends.

Bringing new life to a historic property

The building presently located at 94 North Elm Street was first constructed in 1894 as the home of the Independent Whip Company. In 1922 Old Colony Envelope Company purchased the property, where it was home to the well-known paper company for more than 75 years.

When Old Colony Envelope moved to Turnpike Industrial Road in 1997, the building was purchased by the Schortmann family. Westwood Restaurant and Pub was conceived.

In planning the design and ambiance of our restaurant, we wanted to pay homage to the historic nature of the property. You will notice the brickwork inside the restaurant, done by local mason Patrick Murphy and his team of experts. All of the bricks used were recycled from the original building. Master woodcrafters R. Strolis and T. Flipiak were instrumental in removing all of the original wood and beams from the former building. This recovered wood has been planed down, reassembled and is now part of the Pub and Restaurant. With the exception of the bar top, all of the wood you see in the Westwood is original.



Many aspects of Old Colony are now incorporated into our design. The windows separating the dining room and pub are original frames. Wood casing from old offices grace both entrances to our restaurant and the main dining room. The inset stained glass designs you see are from old English pubs. Special frames were constructed to highlight their historic beauty.

Many of the antiques are from local families and one huge shopping trip to New York City. Local resident "Reggie" played a major role in the d?cor of our establishment.

Our Grand Ballroom and banquet facilities were built in 2004 We offer the most modern banquet facilities found in the area, while still keeping with the beauty and charm of the property.